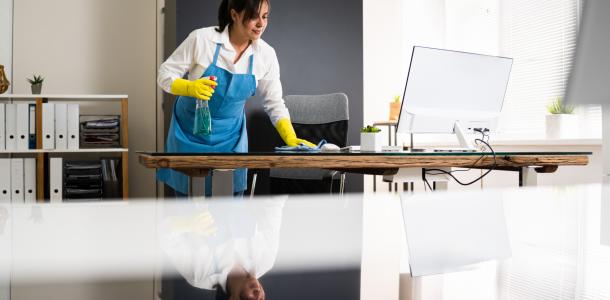 Lokalvårdare med språkstöd
|

Lärlingsvux med språkstöd

Hotell och turism

Lokalvård lärling med språkstöd – med möjlighet till SRY -Certifiering
Viktig information
Apprenticeship training is vocational training where at least 70 percent of the teaching takes place in a workplace. You have a supervisor at the workplace and a vocational teacher at the school who accompanies you through the training.
The rest of the time you study vocational courses and Swedish. Good if you have some computer skills.
The content of the education
Orientation course 50p
Ergonomics 100p
Service and treatment 100p
Materials and environment 100p
Cleaning service 100p
Vocational Swedish 100p
SFI/Basic Swedish as a second language
After completing the training, you can work with professional housekeeping, for example at municipalities, regions, staffing companies or local companies within the industry. There is the possibility of SRY certification.
Costs for any literature books and work clothes may occur
Workplace-based learning, app
Workplace-based learning, APL, is included in the education. Work-based learning means that you are at a workplace and complete part of the training there. You get a supervisor who supports you and you follow the supervisor's working hours.
You must be prepared that it can sometimes be a long way to travel, there can be inconvenient working hours such as early mornings, evenings or weekends. The work can be physically demanding and you may also have to buy your own work clothes.
Apl periods:
At least 70% of your training time
If your application is approved, you may be called to an information meeting. If you pass, you will be admitted to the course.
Course and admission notification:
You will be able to read the notification by logging into your student account. The notice will also be sent to you by email. It is therefore important that your e-mail address is updated in the web application and that you have control over your login details.
If you have lost your login details and no longer have access to the e-mail address you entered when registering in the online application, you must register with the adult education center in your home municipality. Then you can get help to update the e-mail address and access your information in the system.
Place of the training: Campus Mölndal
Training organizer: City of Mölndal
Responsible adult education: Campus Mölndal
You are authorized to read this training if you lack the knowledge the training should provide.
In order to be accepted, you must:
– have the lowest grade E from SFI course C or equivalent
– have not completed Swedish as a second language at the basic level
– have the prerequisites to study a vocational education in combination with studies in SFI/Swedish as a second language at basic level
If your application does not have a grade, it may be appropriate for you to receive more information on how to proceed.
Documents to be attached to the application
Upload a copy of your grade (with the principal's signature) in SFI to your
student account. Merit summaries from Antagning.se, study plans or other types of summaries that are not a grade document with a signature are not approved.
If you are missing grade documents from previous studies, contact the school that issued the grades in the first instance and the city, municipality or regional archive in the second instance.